AFNNET Graduate Is Principal Investigator and Deputy Center Leader at MUST's Winning ACE II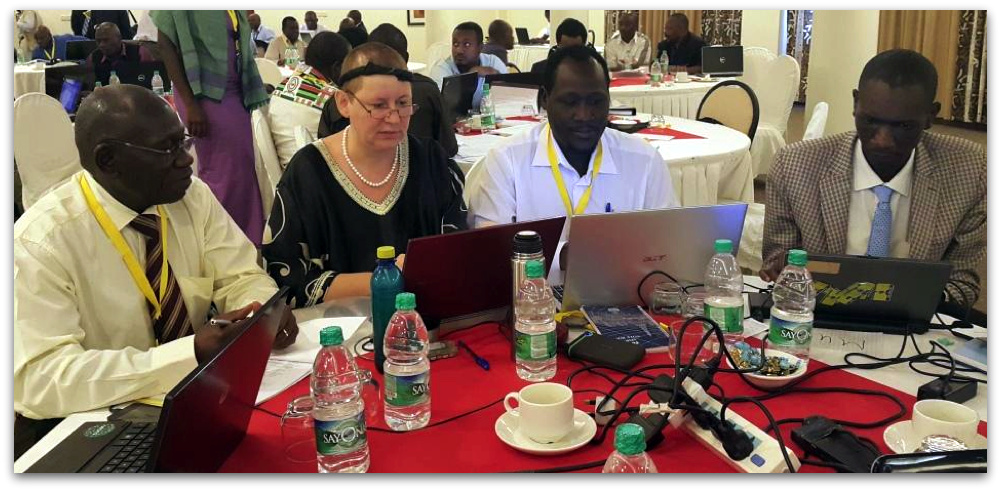 L to R: Prof. Celestino Obua, Vice Chancellor of Mbarara University of Science and Technology (MUST); Eng. Anke Weisheit, Chair of Business and Innovations; Dr. Casim Tolo, Center Leader; and Dr. Patrick Engeu Ogwang, Principal Investigator and Deputy Center Leader at a Training Session in Dar es Salaam, Tanzania (February 15–19, 2016)
Mbarara University of Science and Technology (MUST)'s Pharm-Biotechnology and Traditional Medicine Center of Excellence for Eastern and Southern Africa is among twenty-three research centers in the region that have been earmarked for funding under a World Bank initiative designed "to establish and strengthen specialization and collaboration among a network of higher education institutions in the [...] region to deliver relevant and quality education and applied research to address key development challenges."
These centers have been conditionally selected under the US $140 million Eastern and Southern Africa Higher Education Centers of Excellence Project (ACE II).
The Pharm-Biotechnology and Traditional Medicine Center at MUST aims to train and produce experts in modern drug discovery; drug development; drug production systems; and traditional medicine standardization, production, and use. RISE-AFNNET graduate Dr. Patrick Engeu Ogwang played a crucial role in the development of this winning ACE II proposal, and he will assume the role of Primary Investigator and Deputy Center Leader once the center is up-and-running in August 2016.
While the center will admit only African nationals as students, it will enlist experienced faculty from the U.S. and India in addition to African faculty to build the center's capacity for world class teaching and research. It will be supported by World Bank funds estimated at US $6 million dollars over the next 5 years, after which it is expected to become self-supporting.
Dr. Ogwang is currently the lead investigator on the following studies, for which he will enlist student researchers at the new MUST ACE II:
Risk analysis of heavy metals and petroleum byproducts in medicinal and food plants used by humans and wildlife in the Albertine region

Effects of Artemisia annua L. preparation (Artavol) on CD4 cell count in HIV/AIDS patients taking antiretroviral drugs (which is a continuation of Dr. Ogwang's RISE-AFNNET PhD research project)

Effects of Rumex usambarensis for controlling obesity in laboratory animals

Contraceptive effects of a traditional medicine formula reputed to cause safe, lasting contraception following the administration of three doses — a study of laboratory animals
---
To learn more about ACE II, please visit: